[
Posted by Crabby
]
Yes, it's been a while since a Random Friday, but don't worry--it's still just as dopey as ever. Merry is taking some well-deserved time off, thereby lowering the standards of the blog. Pray for her speedy return!
Let's start with a little bit of science, shall we?
Gay Brains:
A
brain scan study of gay and hetero brains
found surprising differences--with gay men and straight women sharing some characteristics that differed from straight men and lesbians. These were "in the area of the brain responsible for emotion, mood and anxiety." The brains of straight guys and lesbians "were slightly asymmetric with the right hemisphere slightly larger than the left," while gay male and straight female brains were not. And the amygdala (the "fight-or-flight" area) was wired in a similar fashion in gay men/heterosexual women vs gay gals/straight men.
(
Note to self: learn better bar-fighting skills and how best to avoid crying at sad movies. Or at least find out why I was apparently issued the wrong model of brain at birth. Consider visiting
Healthbolt
to take the "
what sex is your brain
" test
).
More Good News on the Beverage Front:
At least if you enjoy coffee and/or red wine.
For
java junkies
, especially the gals: A new
coffee study
found that women who drank two to three cups of coffee a day had an 18% reduction in death from all causes compared to non-coffee-drinkers. But what about 4-5 cups a day, that can't be good, right? Well ha ha ha! The women who drank that much had a 26% reduction in risk. (However, the risk reduction in men was small enough it could have been due to chance).
And as for the
health benefits of

red wine

?
Well, as you may recall, previous research had shown that an ingredient in red wine, resveratrol, extended longevity in mice. But these studies were done with high doses, which is a problematic if you're trying to generalize to humans, given the obvious inadvisability of guzzling several cases of merlot every night. However, this new research was done with much lower doses, implying that even modest amounts of resveratrol can "can elicit many of the same benefits as a reduced-calorie diet," including "a robust intervention in the retardation of cardiac aging."
Cheers!
Losing Your Cool:

Do you have kids on sports teams? Does it ever drive you crazy to go to their games and watch obnoxious parents behave like complete assh*les and spoil everything? Well, you may want to visit Juicebox Mom at
Just Here for the Snacks
and print off some copies of her handy and humorous guide: Parents--How to Behave on the Sidelines.
And speaking of Complete Obnoxiousness, this awesome video has been around the net for a while (and there is now a
musical version
). But for those who haven't seen the vintage Bill O'Reilly meltdown, it is worth watching a World-Class
Prick
Professional performing at the peak of his powers.
(And O'Reilly has plenty of company, if you want to see a
compilation
of similar on-camera temper tantrums).
How Much is Too Much?
Here at Cranky Fitness we can't really be accused of "overdoing it" when it comes to rigorous exercise. Nor are we overzealous when it comes to nutrition or personal development or anything else that requires sustained effort. However, some of you out there are quite dedicated and motivated! You may sometimes run into the problem of Doing Too Much.
Are you overdoing it on your exercise routine? Charlotte over at
The Great Fitness Experiment
has an insightful post on
over-training
, (and a
great follow-up
too) that could be a valuable intervention for anyone easily seduced by a "More is Better" approach to fitness. Sometimes more is NOT better.
And similarly,
Semi-Charmed Wife
asks a lot of good questions about the constant quest for self-improvement and whether it's always healthy. (She doesn't presume to have the answers, either, which is refreshing).
Random Internet Wanderings:

Did you know that the Lolcat people have spawned yet another user-generated humor site that can assist you in avoiding work for hours? Well, it's true, damn it. It's especially suited for people obsessed with popular song lyrics and charts and graphs and such.
plenty more at the
graphjam
site.
And another cool thing? There are cartoons on the web! Who knew?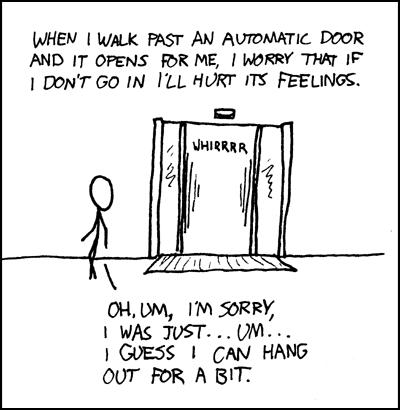 Comic courtesy of
xkcd
Have a great Friday, folks!