[By Merry]
So close to Friday.
Almost there.
Must... hang... on...
Hang on a minute. What kind of post is this? Where are the chipper puns? The quirky health studies? The fun Fail photos? It doesn't even have a proper title!
Bring Crabby back! We want a real post!
The headache is taking up most of the front part of the brain, where all the serious thinking is usually done, so my mind is in trivia mode.
I know gas is expensive
... but
this is ridiculous
(I don't know if you can see, but the horse is on a treadmill, which powers the vehicle. Literally horsepower.)
Winner of the Addictive Game award of the week:


Bubbleshooter
.
Damn that game. Be warned that this game is highly addictive and very frustrating. Also, if you go to that site, please do something about the spelling and grammar. Please.
More ways to help the world while feeding your trivia addiction:
Free Kibble
Kind of like
Free Rice
except you only answer one question a day. Every time you answer a question, more dog kibble is donated to animal shelters. There's also its feline equivalent,
Free KibbleKat
.
Cartoon of the week: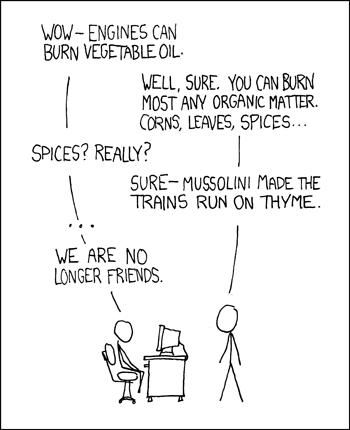 And, of course, the cat video of the week:
Okay, I can't take the guilt. Here's productive, useful information:
I'm being a headache-addled wimp and shirking my duties as a dutiful blogger. Crabby will be sad. I can't be having that. So here. I put together a long list of
useful and helpful blogs
, where people talk about how to be more organized and productive and all that good stuff. (When I say "put together", I am of course referring to the fact that I personally went to that blog and copied the URL myself so that I could link to it here. That's pretty strenuous activity right now.)
Have a great almost-Friday!