So, confession time. I'm a Luddite.
No, Crabby, that's not a new religion! I mean I am reluctant to adopt a lot of the new technological 'advancements' out there. I'm so un-cool that I don't even have cable TV. I finally got around to configuring the digital converter so that I could get my local TV news fix in the morning.
Geez. I am not impressed. Even with an electronic antenna to amplify the signal, I am getting about half the channels on my 'fixed' TV that I was getting with the old analog signals. Bah humbug. I figure if war breaks out in my small town, someone will mention it to me.
more
animals
Besides, watching TV is bad for you. People can watch TV while they work out, but they rarely do.
Watching TV lowers physical activity
. Well, that seems fairly self-evident. Many people watch television while eating dinner or relaxing after work. The trouble is, once people
start
watching television, they're less likely to get up on the treadmill and start exercising while they watch. I'm still trying to find a study that conclusively proves that the gravitational field around a couch increases as a direct result of a person flopping down on the couch and picking up a remote. I've seen enough anecdotal evidence to make it clear that something happens.
Watching TV makes
teenagers more likely to eat fast food
. A study that followed about 2000 teenagers and concluded that "high-school kids who watched more than five hours of television per day had a lower intake of fruits, vegetables, whole grains and calcium-rich foods; and higher intakes of snack foods, fried foods, fast food, sugar-sweetened beverages, and trans fats five years later."
more
To balance this out, I thought it would be fair to include a couple of studies showing how hanging out on the Internet can be bad for you too. I mean, you're sitting still in both cases. But apparently there is a severe lack of studies being undertaken on this subject.
There
are
studies showing that people can become addicted to the Internet. One researcher claims that up to "
10% of all Internet users are afflicted with Internet Addiction Disorder
." Hmph. Seems a bit high. Apparently people who cause or suffer from Empty Nest syndrome are more likely to be susceptible to this addiction, i.e. people in their teenage years or in their mid-50s.
Maybe sitting and looking at the computer screen isn't so bad, healthwise. If nothing else, the act of
writing burns more calories than watching television
does. A 120-pound person burns approximately 55 calories an hour just sitting and watching television. The same person would burn approximately 100 calories by sitting and typing. (
Totally spurious
Anecdotal evidence suggests that when typing comments on a Cranky Fitness blog, the average person burns 3,325 calories an hour.)
Besides, the Internet provides all kinds of useful information. Some people rely on sources like
Daily Kos
. Me, I rely on
XKCD
to tell me the real scoop.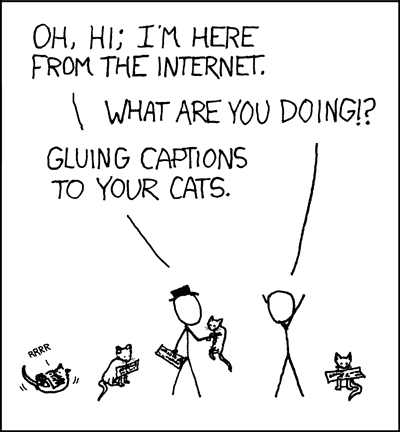 If you had to choose between TV and the Internet, which would you choose?